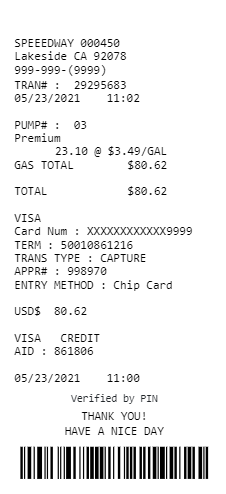 Make A Receipt
The first step of using an online receipt maker is filling in the required fields. The fields are for the business name, customer name, date of the transaction, goods or services purchased. After filling in all these fields you can choose an invoice template for your receipt by clicking on the one that suits your needs best. You have to pay attention to what information is included on these templates so that it matches your needs.
After you've chosen a template, you can start customizing it with your logo and branding colors. You can also create custom designs by using shapes and text boxes for company information like address and phone number. One more option is uploading a logo file to upload to replace the default business logo or any other graphic used in the template design. The last thing you
This section will describe how to create a receipt online.
1) Go to the www.Expensesreceipt.com and select the type of receipt you would like to make.
2) Fill out your information on the form, including what you are purchasing and the amount.
3) Select whether or not you want an invoice number or delivery confirmation number.
4) Enter your contact information for where you want to receive your receipt via email or text message.
5) Click "Download Image" button at the bottom of your screen.
Receipts are records of exchanges involving financial transfers. Receipts can be used for accounting, for record keeping, or to back up an expense report. Receipts are important because they provide evidence that a particular transaction has taken place. They also serve as proof of purchase in case the item is lost or damaged.
Online receipts are another way to save paper and ink. Nowadays it is easier than ever to create and share your receipt information with friends, family, or coworkers without printing it out first. All you need is your phone or tablet and to install an app like Evernote Scanner which can read receipts' barcodes and take pictures of the receipt before you leave the shop with it.
We should always keep our receipts because they can come in handy